We see you. We believe you. You matter.
"What would it mean to survivors for the entire campus community to be behind them in their healing? What would it mean for survivors that the care we give to them is not limited to the few on campus either whose job it is to do this work, or who have taken a special, personal interest in it?"*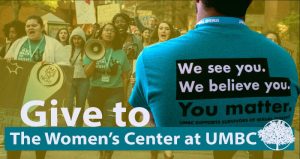 We ask the above question at the end of each of our Supporting Survivors of Sexual Violence workshops, not just to simply pose the question, but to present it as a call to action. What would it mean to our campus community if YOU let survivors know you are behind them in their healing? What would it mean if you spent more time letting survivors know you see them, you believe them, and they matter to you?
There's so many ways you can work to let survivors know you have their back and we're offering one more suggestion: Over the course of this year, we're asking our UMBC community members to take this call to action by giving a a financial gift to the Women's Center to help supporting our programming and services for survivors of sexual violence. Below are several UMBC alum who have answered the call to action and have signed up to be our campaign ambassadors. Keep reading to learn more about them!
Meet our ambassadors and learn more about the importance of your gift to the Women's Center!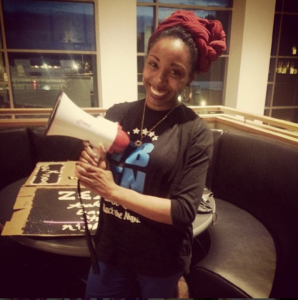 "The Women's Center at UMBC is one of those rare, magical places where you can come as you are on any given day and just be, without judgment. You'll always be welcomed, you'll always be heard, you'll always belong. Spaces like that are immensely powerful, and they give us all the support we need to see ourselves as brave, strong, beautiful, brilliant, whatever we need to be to move through this world and make it better than how we found it. Spaces like that are revolutionary and deserve our support.
During her time as an intern for the Women's Center, Lexx helped to bring back Take Back the Night to campus since it's hiatus several years prior. Through writing a BreakingGround grant, Lexx helped secure much needed funding for this now annual march and survivor speak-out for campus. She served as march leader in 2013.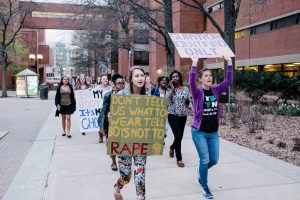 "Take Back The Night was the first time I realized I was not alone in my experiences of violence and sexual assault. I gained the courage to talk about what happened to me and felt loved by the people in the space. My journey to healing started then and opened opportunities that were otherwise closed."
You can learn more about Kelsey over at our blog!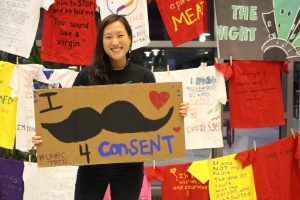 "The Women's Center has been an invaluable and crucial place for my healing, growth, and community building. As a survivor, I know that there were conversations I would've never had otherwise, books I might've never read, and friends I would've never met. As a TBTN rally leader, I cried and rejoiced as I heard survivors' stories, recognizing that without this forum, we might've never connected or so publicly seen the community that is possible when we come forth and stand up together. This work is chronically underfunded and at times, undervalued. We need your support more than ever to continue to have the resources to support the survivors in our community!"
In addition to working in the Women's Center during the 2014-15 academic year, Yoo-Jin was served as an emcee for the survivor speak-out and as a march leader for the 2014 and 2015 Take Back the Nights at UMBC. You can learn more about Yoo-Jin over at our blog!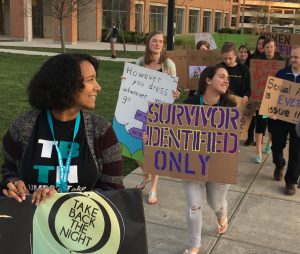 "I'm grateful for to the Women's Center and Take Back the Night for the space I got to open up about my assault and feel supported through it. I am grateful for all the friends, growth, resources, and community I've found. It was through TBTN that I first found my voice was wanted and needed in this movement, and it has lead me on the path to my personal healing and now my career as a victim advocate."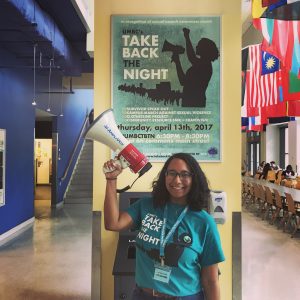 "I've never felt more seen, heard, and appreciated than I did when I was working on TBTN and marching alongside other victims and our allies… I cannot stress enough how much the Women's Center and TBTN has meant to me for the past four years and how much I know it means to other students."
In addition to interning and working in the Women's Center during her time at UMBC, Kayla served an emcee for the survivor speak-out and as a march leader for the 2015, 2016, and 2017 Take Back the Nights at UMBC. You can learn more about Kayla over at our blog!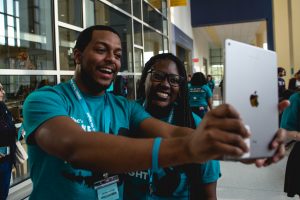 "My journey with the Women's Center began the Spring of 2013 when I participated in the Rebuilding Manhood program. I had the opportunity to dig deeper into the meaning of masculinity and issues surrounding it alongside a cohort of other men. It was a journey that definitely gave me more insight into my life, as well as the lives of other men, and most notably, the tools and knowledge to be an educated and active ally to all women. I have since also been able to attend TBTN a number of times, and always have a wave of empowerment wash over me as I witness the strength from dozens of survivors sharing their stories."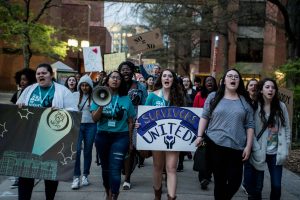 "Take Back the Night gave me the ability to turn my pain into power. It gave me a chance to articulate a visceral experience and yet at the same time move on with my life. It's so important not to harbor on the times I was a victim… because that's not who I am at all."
Will you join our campaign ambassadors and other community members in supporting survivors and amplifying the voice to their experiences?
Will you give to expand the Women's Center platform for raising awareness and access to resources?
*Quote above from Dr. Mollie Monahan-Krieshman, found in Walking the Woods: The Lived Experience of Sexual Assault Survival for Women in College