This program is designed to support undergraduate women over the age of 25 returning to college later in life. Students receiving a returning women student scholarship are required to participate in this program designed to support their personal, academic, and career goals of adult learners at UMBC. ALL returning women students/adult learners at UMBC are invited to attend the monthly meetings and workshops designed specifically to meet the needs of adult students. This includes UMBC USG students! You can also request an invite to join the Returning Women Students Forum on Facebook for news, resources, and community building. 
All undergraduate students 25 years and older who meet the scholarship criteria are invited to apply for the Returning Women Students Scholarship. Applications for the 2021-22 academic year are now available to students who meet the eligibility requirements via ScholarshipRetriever. For more information visit our myUMBC post.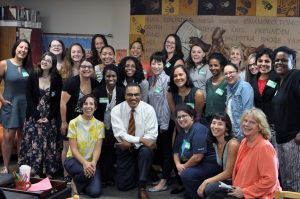 This page has big plans to become more robust and awesome! Stay tuned!