Internships, Service-Learning, or Research - Is It Possible?
Yes! Learn How First-Gen + Adult Learners Can Do It Too!
Thursday, April 15, 2021
4:00 PM – 5:30 PM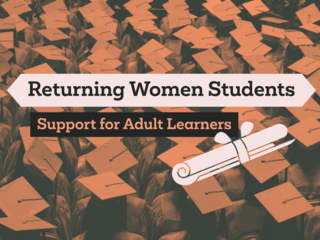 The Women's Center is excited to be a co-sponsor of this event! The original post for this post can be found on the Career Center's myUMBC page. If you plan on attending, please RSVP there.


As a student, you've probably heard how important engaging in internships, research, or service-learning is during your time at UMBC. If you're an adult learner or a first-gen college student who may be navigating employment or family responsibilities, you might be wondering "how can I do it?" or "is it even possible for someone like me?"
Internships, research, and service-learning are referred to as *High-Impact Practices, which means that they often lead to success for students while in school and after graduation. Though these experiences can require significant time and effort on the part of the student, this doesn't mean they have to be off-limits to busy students who are navigating multiple other roles in their lives. 
This event will focus on the experiences of adult learners and first-gen college students by providing an overview of ways UMBC adult learners and first-gen students can get engaged and gain experience. We will begin with a brief overview from UMBC professionals representing internships, research, and service learning and will progress to a panel of amazing adult learners and first-gen college students who are ready to share their experiences with high-impact practices and the creative approaches they took to make it possible! 
 Student/Alumni Panelists Include: 
Marcela Hoyos (pronouns: she, her, hers), Senior in Psychology, Intern at House of Ruth. First generation college student, wife and mother, immigrated to the US from Columbia in 2011.
Layla El Mgharbi (pronouns: she, her, hers), Senior in Media and Communication Studies, Internships have included International Civil Society Action Network and National U.S.– Arab Chamber of Commerce. First generation college student, single mother of 3, immigrated to the US from Morocco in 2005. 
Hager Younes (pronouns: she/her/hers), Junior in Biological Sciences with minors in Psychology and Arabic, Service-Learner & leader for UMB CURE Program and France-Merrick Scholar. First Generation American.
Rebecca Ferguson( pronouns: she/her/hers), UMBC '19 alum B.A., in Geography and Environmental Systems, current CCMA AmeriCorps VISTA for Retriever Essentials, First Generation College Student, served as a leader for Alternative Spring Break, completed Peace Corps Prep, and Center for Social Science Scholarship Undergraduate Research Awardee. 
For more information, check out this myUMBC post that provides an overview of high-impact practices that adult learners and first-gen college students can explore. 
This event will be recorded and available at a later date. We encourage students who are able to attend to do so to take advantage of the opportunity to ask questions in real time.
Please RSVP below if you plan on attending! The event link will be added closer to the start of this event.
This event is a collaboration between the Women's Center, the Shriver Center, UMBC Research, and the Career Center. 
******
*The positive effects of High-Impact Practices (HIPS) on student engagement and success are well documented. High-Impact Practices include first-year seminars, learning communities, internships, service-learning, research and other experiences that help students through engagement, active and deep learning.  These High-impact practices have been shown to have a compensatory impact on historically underserved student populations.