Women's Center Mission
The Women's Center exists to assist all women in achieving their full potential in education, career, and personal life through academic and intellectual growth, professional development, and personal empowerment.
All are welcome so long as they respect women. Their experiences. Their stories. Their potential.
To learn more about the Women's Center read our FY2015 Annual Report
Summer 2015 Hours of Operation
Monday – Thursday,  10am-3pm
Friday, Closed.
Community members needing access to the lactation room when the Women's Center is closed but The Commons is open are encouraged to contact a Women's Center staff member.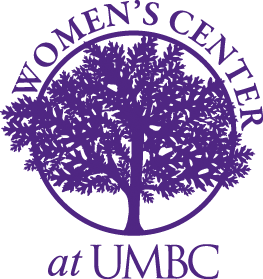 Hours of Operation (Fall and Spring Semesters)
Monday,  9:30am-6pm.
Tuesday, 9:30am-6pm.
Wednesday, 9:30am-6pm.
Thursday, 9:30am-6pm.
Friday, 9:30am-4pm.
Please note that the Women's Center lounge may not be available when the space is reserved for closed meetings. Please consult our calendar to help you plan your visit ahead of time.
Summer, Winter, and Spring Break hours vary. For hours of operation during these times, please consult our myUMBC page. For information about accessing the Center outside of our normal hours of operation, please stop by or email womens.center@umbc.edu.
Students are encouraged to schedule meetings and appointments with Women's Center staff during their open office hours. Please see our calendars for easy online scheduling:
Jess Myers, Director
Megan Tagle Adams, Coordinator
Follow Us!
Keep up with the Women's Center on our social media:
Women's Center myUMBC
Women's Center Blog
Women's Center Facebook
Women's Center Twitter

And learn more about Women's Center groups on their social media:
Moms and Parents Group myUMBC
Women of Color Coalition Facebook
Women of Color Coalition myUMBC
History of the Women's Center
UMBC Women's Center 20th Anniversary Documentary from stefanie m. mavronis on Vimeo.