Women's Center Specific Programming and Resources
We see you. We believe you. You matter. 
Our support services are for all survivors and UMBC community members seeking assistance, regardless of gender or sexual orientation. 
Individualized support and meetings via appointments or walk-in (pending staff availability) 
Programming for Sexual Assault Awareness Month (April)
Programming for Relationship Violence Awareness Month (October)
Annual Take Back the Night (April)
The Clothesline Project (Public displays on campus in April & October)
Supporting Survivors of Sexual Violence: Cultivating a Survivor-Responsive Campus workshop (staff/faculty sessions and student sessions offered several times throughout the year or by request)
We Believe You – a weekly discussion group for survivors of sexual violence and their allies co-hosted by the Women's Center and We Believe You student org
The Women's Center is a Quasi-Confidential Resource. 
A Quasi-Confidential Resource "means someone who is available to provide crisis support and/or advocacy services for UMBC community members impacted by an incident of Prohibited Conduct. Conversations with these Quasi-Confidential Resources can remain confidential, except, when there is an imminent or continuing threat to health or safety (as determined in the sole discretion of the University), there a disclosure of apparent or suspected abuse of a child or dependent adult, or other basis for disclosure, such as a legal obligation to reveal such information under enforceable court order."
For more information on reporting and access to the online reporting form to report incidents under the UMBC Sexual Misconduct (Title IX) Policy, and Anti-Discrimination Policy, click here. 
If you would like to file a report in person, please reach out to the Office of Equity and Inclusion at (410) 455-2735 or oei@umbc.edu.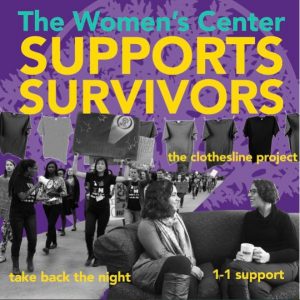 Additional Campus Resources
After-Hours Sexual Assault or Relationship Violence Support
UMBC's After-Hours Support Line: Between the hours of 5 pm and 8.30 am, on weekends or when the university is closed please call 410-455-3230
For Universities of Shady Grove UMBC students specific resources.
Disclosures of Child Sexual Abuse
All of our community members are welcome to discuss the issues that impact their well-being. Please know that under the USM Policy on the Reporting of Suspected Child Abuse and Neglect, all members of the UMBC community have a duty to report suspected child abuse and neglect. Any disclosures made to Women's Center staff, even if it occurred many years ago and regardless of our quasi-confidential resource status, will be reported to local police department or the local department of social services, and UMBC's designee, who may investigate the allegations. Visit this link for more details.