Resources for Working Parents & Caregivers
The Women's Center supports working parents and caregivers through advocacy, education, and resource sharing. When faculty, staff, and students are able to continue to meet their family obligations, they are better able to foster a sense of well-being and reach their fullest potential. To our UMBC caregivers juggling remote work and learning with caretaking responsibilities, we see you, we believe you, and you matter.
Working in partnership with the Provost Office, we are committed to providing you greater access to resources and support specific to UMBC and the broader Maryland community, particularly during the COVID-19 pandemic. Many of these resources are also available to our students Please review the resources below and let us know if you have any questions or would like to schedule an individualized support meeting with someone on our staff.
This is not an exhaustive list. Off-campus resources listed below do not equate to endorsements or partnerships and we encourage UMBC families to evaluate them based on their own needs and values.
Something missing? Email womenscenter@umbc.edu to offer resources that have been helpful to you or take our survey to give us more details about your experience. We hope this page can be an evolving document of on and off campus resources and we will update as often as possible. We also encourage parents to take advantage of the myUMBC Moms and Parents group for additional resources and networking.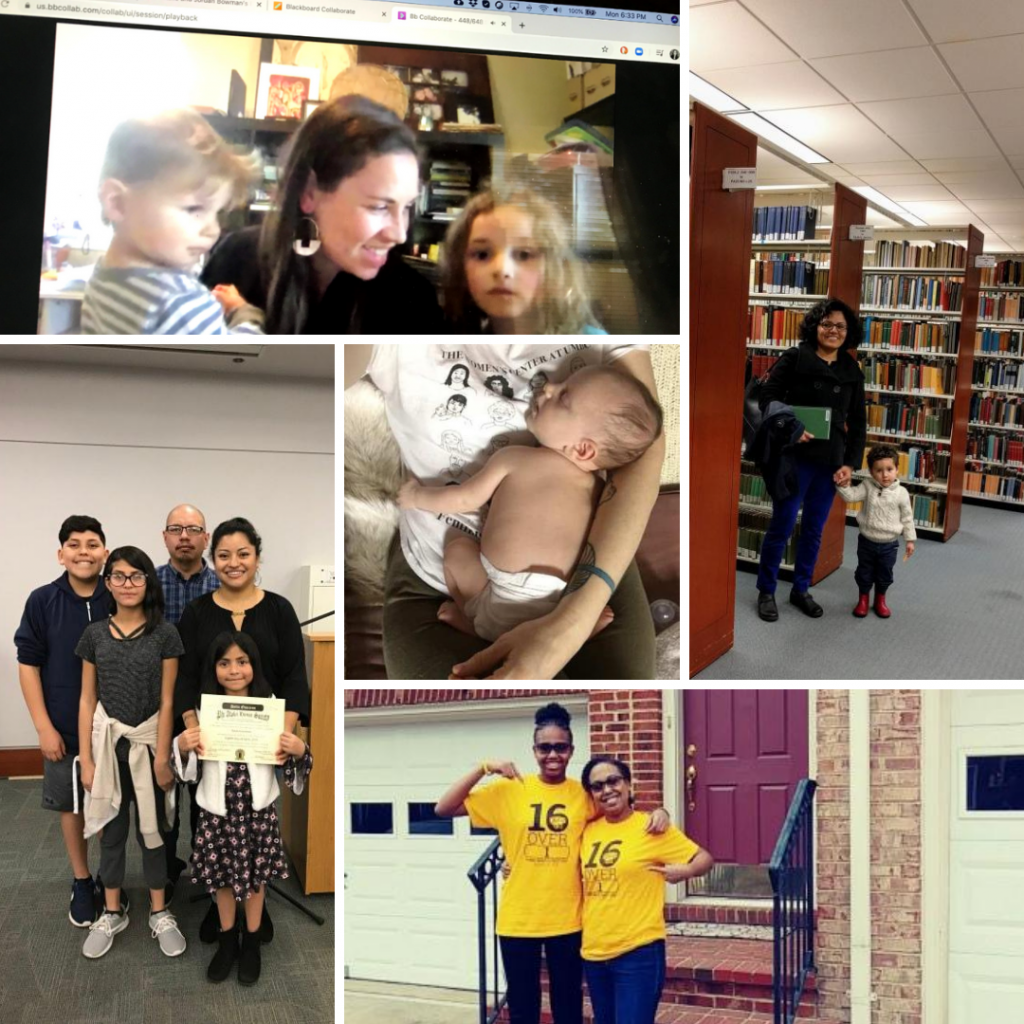 UMBC COVID-19 Information and Resources for Faculty and Staff Caregivers

The following resources may be helpful to working parents and caregivers and was compiled explicitly for UMBC faculty and staff. While all of the resources are available to campus employees, resources marked with a * are also available to students.


An important note the Women's Center would like to stress around these policies and practices, is that it is not just the presence of flexible work policies, but the culture that surrounds these policies that will make them a true part of the fabric of our efforts surrounding inclusive excellence. People of all genders should be encouraged to use flexible leave and work accommodations as a means to advancing gender equity at UMBC and higher education.
Caregiving Resources for Children

The following resources may be helpful to working parents and caregivers in helping navigate childcare and tutoring support throughout distance learning and remote work.
Caregiving Resources for Elders

The following resources may be helpful to working caregivers in helping navigate eldercare support during this time of remote work.
Communities of Support for UMBC Caregivers

The Women's Center at UMBC has a tradition of supporting UMBC moms and parents through group meetings, sharing resources, and providing advocacy. Women's Center staff can also be available to provide individualized care and support. Other UMBC communities can also serve as a source of support in navigating the multiple roles faculty and staff juggle. 
Resources for Supervisors and Allies: COVID-19 Related Gender Equity/Caregiving Guidance

Resources in this section may provide helpful context and guidance for supervisors and allies of caregivers related to supporting and advocating for caregivers working in higher education. This is not an exhaustive list and tailoring approaches to meet the needs of individuals and departments should be considered. 
Resources for Faculty and Staff to Support Student Parents

Several resources to support UMBC faculty and staff are also available for students to include access to UMBCworks, the Y Preschool, Office of Equity and Inclusion, the Women's Center, and the myUMBC Moms and Parents group. The information below includes other possibilities for creating equitable support and care for student parents in your classes and programs.

For policy and guidance related to supporting student parents, consult the Office of Equity and Inclusion. Information related to Title IX syllabus information for pregnant students can be found at OEI's website.

Additionally, you may want to include information on your syllabus that welcomes students with children to contact you if they need assistance or accommodations.

Be flexible. Remote instruction does not alleviate the need for child care. Student parents may need enhanced flexibility around coursework deadlines, remote instruction attendance, and mandatory testing or project completion requirements.
Think carefully about how your current course policies may make things harder for pregnant or parenting students. For instance, if your class is only offered synchronously, how will you accommodate a student parent who may need to step away from class or miss class entirely to care for their child who is also learning and living at home?
Encourage student parents to access campus resources that can help them in their academic success (such as the Academic Advocates and Academic Success Center) or can support their well being (such as the Counseling Center or the Center for Counseling and Consultation (CCC) at USG)
Promote events and programs that are family friendly and encourage student parents to participate in these activities with their families.
Let students know about the myUMBC Moms and Parents group, Student Parents Meet-Ups, and access to the lactation rooms on campus (for those who are teaching or working on campus).
Educate yourself about the needs of students who are pregnant and/or parenting. If you're not sure what the best next step may be, reach out to the Women's Center, OEI, or other trusted colleagues who may be able to provide helpful recommendations.
Other Helpful COVID-19 Information and Resources for Caregivers
Virtual Resources for Kids and Families

Throughout the pandemic, we are confident that families have found helpful resources for learning and fun to help balance distance learning and remote work. While this is not an exhaustive list, we're sharing some resources below that may be helpful to add to your growing list. 

Additional Resources for Caregivers of Older Children:
Self-Care Resources for Caregivers

We see you. We believe you. You matter. We know things are extra tough right now. While this is not an exhaustive list, we're sharing some resources below that may help you help you! 
This site was updated on January 4, 2021.
We are collecting feedback about user satisfaction related to this webpage. Please complete this short survey to let us know what's working and what can be improved! 
We would like to extend our gratitude to the Women's Center at Wake Forest University for inspiring the creation of this page. We also acknowledge and thank the many UMBC colleagues who recommended resources to include and provided valuable guidance.