Critical Social Justice is a multifaceted and interdisciplinary programming initiative coordinated by the Women's Center which aims to explore social justice in both theory and practice from academic, activist, and artistic perspectives.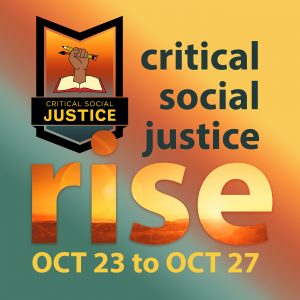 For the fifth annual Critical Social Justice, we'll explore opportunities for building individual and collective resistance and resilience through the theme of Rise. Events throughout the week will challenge us to think about how we can do better, do more, and persist in doing it. How do we rise to meet the challenges of this particular cultural moment to work toward a vision of inclusive excellence—whether it's in the classroom, online, or in our communities?
We're excited to announce that our keynote speaker will be Native scholar and activist Dr. Adrienne Keene (Cherokee Nation), who writes about cultural appropriation and stereotypes of Native peoples in pop culture on her blog Native Appropriations. Keene examines the way Indigenous peoples are using new media to challenge racism, present authentic counter-narratives, and create innovative spaces for art and activism. The keynote lecture and reception will be held on Tuesday, October 24th at 6pm in the UC Ballroom.
Critical Social Justice: Rise will be held on October 23rd through 27th, 2017. Follow our blog, Facebook, and Twitter (#csjrise) for updates on scheduled events and other news. For more information about the Critical Social Justice initiative, or if you're organizing a related event that week that might be included on the CSJ calendar, please email womenscenter@umbc.edu.
---
Past Critical Social Justice themes: