Please see our calendar for an updated schedule of events and programs. We also encourage you to join/follow our myUMBC page for the most-up-to-date information about our events.
UMBC is a diverse community with diverse needs. As such, faculty, staff, and students need a safe space on campus where resources, information, and programming are available related to gender, equity, wellness, community, and social justice. The Women's Center offers programming and a brave space to help the community explore these issues.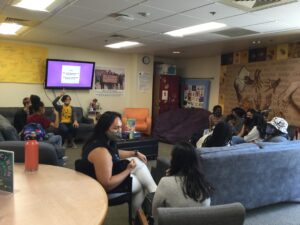 Women's Center events and programming aim to:
Complement academic explorations of gender in the classroom.
Support academic explorations of gender by students and staff.
Reinforce and explore the interconnectedness of gender with race, class, ethnicity, sexual orientation, religion, and other forms of diversity.
Offer alternative and/or complementary resources when on campus resources fall short with respect to accounting for differences in experiences/needs.
Act as a bridge between available resources and those in need when obstacles such as misinformation, lack of familiarity, stigmatization, and shame around sensitive issues make seeking support a challenge.
Mediate and/or facilitate dialogue between community members when gender dynamics play a role in the breakdown of communication.
Create opportunities for community building through the discovery of commonalities across differences.
The Women's Center lounge can be reserved for groups or departments hosting events or meetings that reflect the Women's Center mission. All requests to reserve the lounge must be submitted through 25Live scheduling system for processing and are subject to approval. A nominal fee may be assessed for space reservations for non-student groups, which helps to support Women's Center programming and resources for the UMBC community. Please contact Women's Center staff if you have any questions about hosting an event in the Center.