What is the mission of the Women's Center?
The Women's Center at UMBC advances gender equity from an intersectional feminist perspective through co-curricular programming, support services, and advocacy for marginalized individuals and communities. We prioritize critical social justice as our community value, with a deliberate focus on women, gender, anti-racism, and feminism.
All are welcome as long as they respect women. Their experiences. Their stories. Their potential.
We have currently suspended our hours of operation and are working remotely to do our part to flatten the curve. For support and resources, contact us at womenscenter@umbc.edu. For up-to-date information about UMBC's response to COVID-19, please visit covid19.umbc.edu.
Fall & Spring Semester Hours
: 
Monday – Thursday: 9:30am-7pm
Friday: 9:30am-4pm
Summer & Winter Hours: 
Tuesday – Thursday: 10am-3pm
Monday & Friday: Closed
Hours may vary during summer and winter breaks. Please call ahead to verify availability.
Lactation + Wellness Room
If you need access to the lactation room when the Center is closed but The Commons is open, please be in touch with Women's Center staff so we can accommodate you. Email us at womenscenter@umbc.edu or call us at 410-455-2714.
Please note: UMBC is committed to creating an accessible and inclusive environment for all students, staff, faculty, and visitors. If you have difficulties accessing any of the materials on our site, please contact us so that we can provide an alternative format and remedy any accessibility challenges.
Have any extra meals swipes? Donate them by September 20!
Have extra meals on your ID card that you won't be able to use? Students on a meal plan can now "Save-A-Swipe" by donating 5 or 10 meals from your meal plan to Retriever Essentials. Students in...
Posted: September 14, 2021, 6:56 PM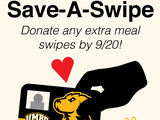 Reposting to help spread the word!
Crossposting from SWSA, but all majors are welcome! -------------------------------- This September 15 from 12 - 1, join us for our opening SWSA meeting this fall with speaker Simone...
Posted: September 9, 2021, 1:46 PM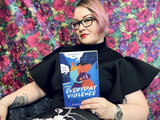 For survivors of sexual violence/intimate partner violence
Starting the week of September 7th, TurnAround will be offering Virtual Office Hours for survivors of sexual violence and intimate partner violence between 2-4pm on Tuesdays and Thursdays. During...
Posted: September 8, 2021, 1:32 PM