Critical Social Justice is a multifaceted and interdisciplinary programming initiative coordinated by the Women's Center with Student Life's Mosaic: Center for Culture and Diversity which aims to explore social justice in both theory and practice from academic, activist, and artistic perspectives.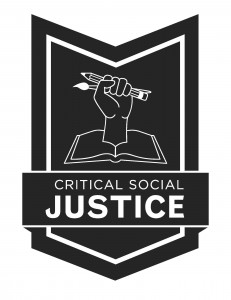 The third annual CSJ week is coming this fall!
Critical Social Justice: Baltimore 365 will be held on October 19th through 23rd, 2015. Check out the event calendar and stay tuned for updates about other exciting programs! 
Much like Critical Social Justice is a year-long campaign, our critical thinking, action, and care for Baltimore must happen all 365 days a year. This year's Critical Social Justice initiative aims to create space and learning opportunities to consider the ways we can cultivate deep and lasting commitments to Baltimore City that are meaningful to us as individuals and as part of the UMBC community. By focusing on Baltimore, we aim to engage with local social justice issues and activism while framing our understanding within the context of larger national movements and ongoing struggles against systemic racism and injustice.
Be sure to check out the Critical Social Justice blog to learn more about the initiative and find out how to get involved! For more information about CSJ, please email womens.center@umbc.edu. 
Get event updates and support the CSJ initiative by:
liking us on Facebook
following us on Twitter (use the hashtag #CSJ365 to engage with critical social justice issues)
checking out our calendar of events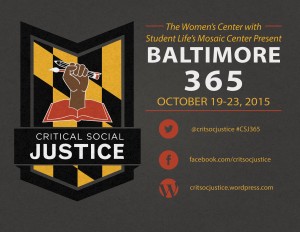 Past CSJ Weeks: